5 O'clock Somewhere Education Series
5 O'clock Somewhere is a monthly educational series to keep Capital District Kiwanians up-to-date on our most 'talked about' issues. The series is held via Zoom each month. We welcome your participation!
---
What's Up Next – December 8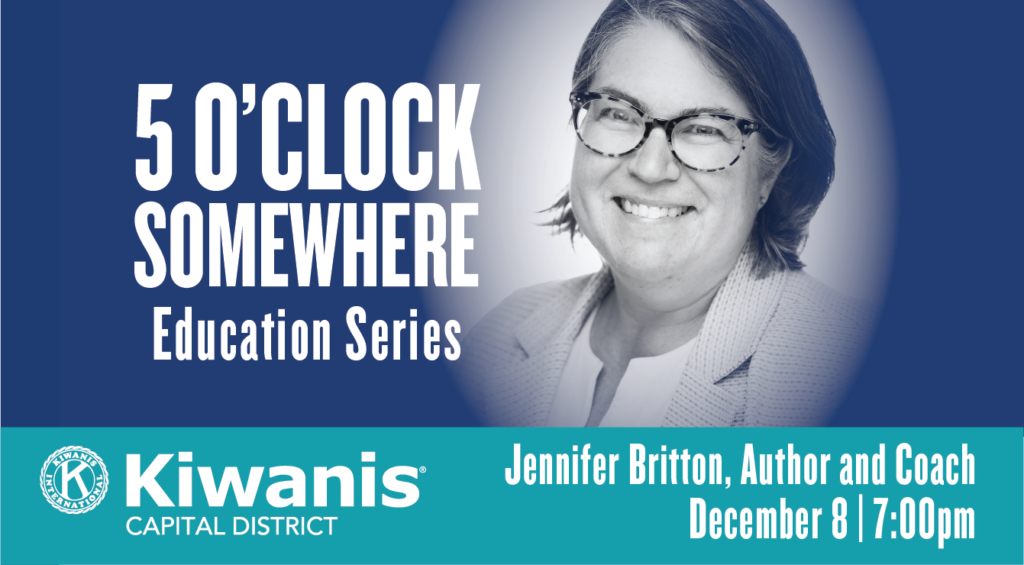 Jennifer Britton, Team Coaching in Leadership
As leaders, team coaching can be very effective with not only our executive teams and our board, but also our members.
About our Presenter
Jennifer Britton has influenced a generation of coaches in the group and team coaching space. Author of the first book to be published on Group Coaching, Effective Group Coaching, back in 2009, her research and writing in both group and team coaching has been used in coach training globally for the last decade.
Passionate about supporting coaches to hone their skills in group and team coaching while creating sustainable coaching businesses, Jennifer is the CEO and Founder of Potentials Realized, offering a suite of ICF-CCE programs in the areas of group and team coaching, virtual facilitation and support to Reconnecting Workspaces. Potentials Realized offers 70 and 125 hour team coaching and group coaching certifications, as well as mentor coaching groups and coaching supervision.
Jennifer's work in the area of designing and delivering coaching skills for leaders has been awarded multiple times. Her work as a coach in the healthcare sector was awarded the Prism Award for Excellence in Coaching in 2016, as well as an Award of Excellence in Curriculum Design by i4pL nationally in Canada.
In March 2022 she was awarded the Individual Contributor Award by ICF Toronto in recognition for her contributions to both the local and global association of coaches, particularly her support and thought leadership provided during the pandemic with supports around virtual conversations and coaching in the emerging remote and hybrid world, as well as her support to the development of the team coaching competencies.
Jennifer is the author of seven books including Reconnecting Workspaces, and the 90-Day Guide for Success, along with Effective Group Coaching (Wiley, 2010 – the world's first book to be published on group coaching), From One to Many: Best Practices for Team and Group Coaching (Jossey-Bass, 2013), Effective Virtual Conversations (2017), and PlanDoTrack Workbook and Planner for Virtual and Remote Professionals (2019).
Jenn's also the co-host of the Remote Pathways podcast which explores the people, places and processes of remote and hybrid work. Learn more about Jennifer, her writing and support to coaches at Group Coaching Essentials.ca
---
Upcoming Webinars
---
Previous Webinars