Diversity, Equity, & Inclusion
Webinar Series
The DEI committee has a bimonthly educational series to keep Capital District Kiwanis Family members from Kiwanis, CKI, Key Club, and Aktion Club up-to-date on the subject of Diversity, Equity, and Inclusion. The series is held via Zoom. We welcome your participation!
What's Up Next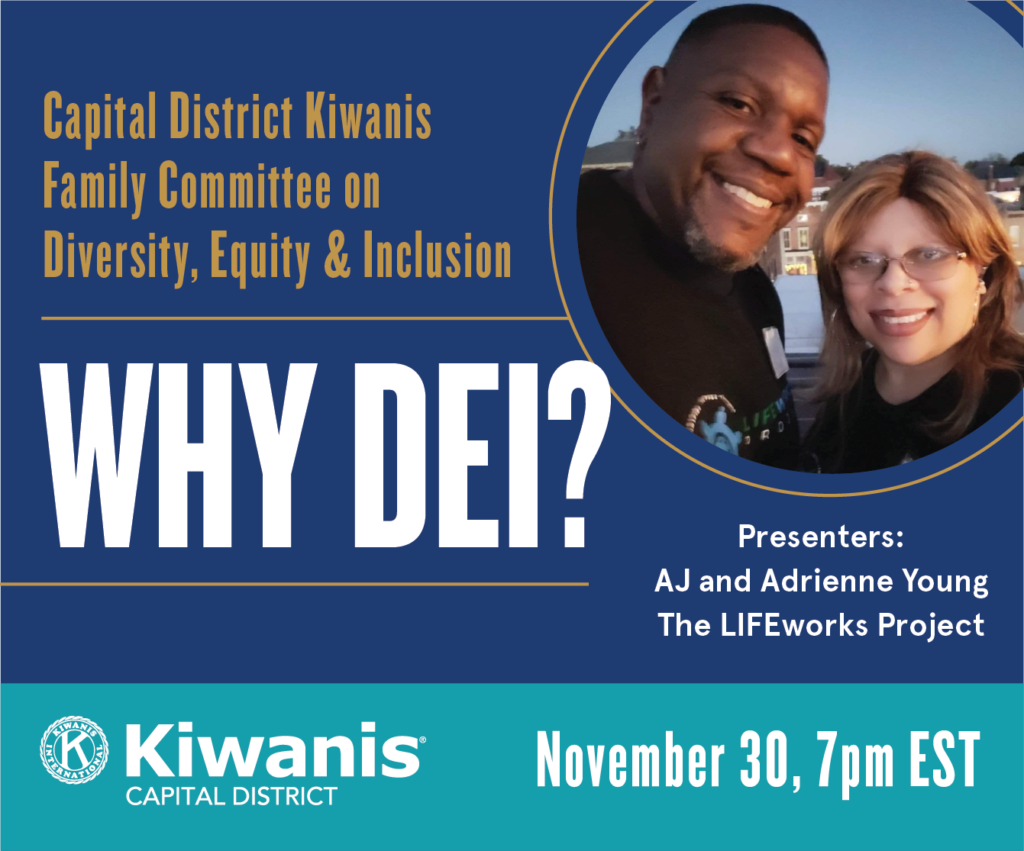 Why DEI?
What are diversity, equity, and inclusion (DEI) anyway? Why are they relevant to our service work in the Kiwanis family? Join the Capital District Kiwanis Family Committee on Diversity, Equity & Inclusion as we explore common DEI challenges and how they might appear in our clubs, divisions, and regions. Guest presenters AJ and Adrienne Young will help us to learn more about the many facets of inclusion and discover some helpful resources to implement in our service work.
About the Presenters
AJ and Adrienne Young are the founders of the LIFEworks Project, a 501(c)3 that provides practical support by addressing food insecurity, advocacy, and financial assistance for ALICE (Asset Limited, Income Constrained, Employed) families in the areas of Staunton, Augusta County, and Waynesboro, Virginia. They are active in Virginia Organizing and other diversity, equity, and inclusion service organizations, and were founding members of the Poor People's Campaign of the Shenandoah Valley. AJ and Adrienne began facilitating a program titled TableTalk in 2017 after the riots in Charlottesville, which has developed into the BRAVE Initiative (Being Real about Values and Equity). BRAVE encourages intentional social justice conversations to build community and understanding in a moderated, safe, format. AJ and Adrienne have five adult children.

---